Help Section & Conditions of Travel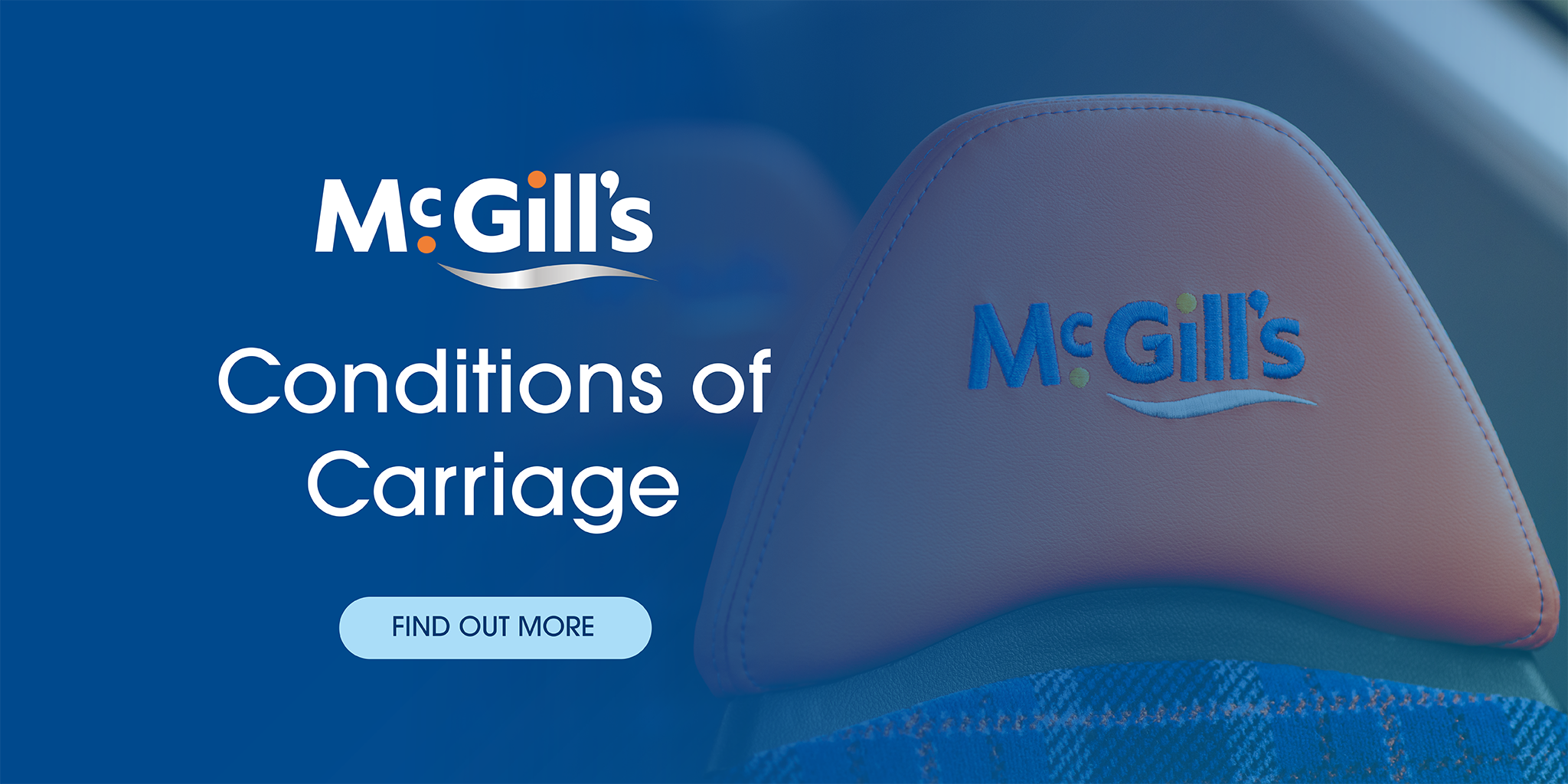 FAQs
1. Do you allow bikes onboard your buses?
The Company does not have any facilities to carry or store standard pedal bicycles on our buses. Please see section 11 of our conditions of carriage for further info.
2. Are food and drink allowed to be consumed on buses?
No food, drink or alcohol may be consumed, only carried, while travelling on the Company's buses. Hot drinks must be carried in a sealed container.
3. Can I take a pram on your buses?
We are happy to carry prams and buggies but a wheelchair always takes precedence over a pram or buggy. If a wheelchair needs the wheelchair space and it is occupied by a buggy, the buggy owner will be expected to fold the buggy to allow the wheelchair to have access to its space. Please see section 3.2 for further information.
4. Who is eligible for a National Entitlement Card?
NECs are issued to eligible people who are resident in Scotland. If you are aged between 5 and 21, over 60 or disabled, your NEC could give you access to free travel on almost all local and long-distance buses in Scotland. Your NEC card can be used on all McGill's services.
5. How do I use my NEC card on the bus?
Your card must be scanned as you get on to the bus. Simply let the driver know where you would like to go and place your card on our ticket machines. Please note we no longer issue paper receipts when using your NEC card.
Complaint Procedures
When you contact McGill's (via email, letter or telephone) a full report is logged on our system and passed to the relevant depot for investigation.
The depot then has 7 days to respond to customer services in regards to the customer issue.
As soon as customer services receive a reply, a member of the team will contact the customer at their earliest convenience with the result of their enquiry.
If the customer is for any reason unhappy with the response given, the next stage is for the information to be passed to McGill's customer services supervisor, and the issue will be investigated again in the hope to resolve the matter for the customer.
The last stage, if McGill's cannot resolve your issue, is for the customer to contact SPT or Bus Users Direct.
Conditions of Carriage
In these Conditions of Carriage, the following expressions, unless the context requires otherwise, have the following meanings:
The Company
McGill's Bus Service Limited. A Limited company registered in Scotland, No. 027238, with its registered office at 99 Earnhill Road, Larkfield Industrial Estate, Greenock, PA16 0EQ.
Company official
An employee of the Company such as a driver, inspector, route manager, or supervisor.
Timetables
The timetables of the Company's bus services. All McGill's timetables can be found here.
Accessible bus
A bus of low-floor design, giving step-free access from the passenger door to designated wheelchair space and/or buggy space.
3.2 Travelling with Young Children
12. Carrying oxygen onboard the bus
These conditions form the entire understanding between the Company and its passengers, and apply to all passengers travelling with McGill's.
The Company uses all reasonable means to maintain the local services published in its timetables but accepts no liability for any loss, damage, or inconvenience arising from the failure to do so. The Company reserves the right, for operational or other reasons, to alter, suspend, withdraw services, conditions or fares at any time.
The contract between the Company and any passenger is limited to carriage upon the Company's own services and any liability shall be limited accordingly. In particular, but without limitation, the Company has no responsibility for the acts or omissions of third parties including any delays or cancellations to third party services.
The Company shall not be liable for any loss, damage, or inconvenience arising from the communication of information in good faith by any member of the Company's staff.
Entrance into any of the Company's vehicles or premises confirmed acceptance of these conditions.
Passengers must do nothing which endangers or causes discomfort or offence to any other person on the bus. Specifically, passengers must not smoke, (including the use of electronic cigarettes or personal vaporisers), put their feet on seats, play music which another passenger can hear or cause any other disturbance.
Passengers must not distract or obstruct the driver, or interfere with any equipment on the bus.
Drivers may refuse to carry an item which they believe to be excessively large or likely to cause injury to anyone or damage to any property. Passengers must follow all instruction given by the driver in relation to items brought onto the bus.
When boarding, passengers must state the journey they are taking, pay the fare or present a valid pre-paid ticket. At the end of that journey, they must leave the bus.
Passengers who break these rules must give their name and address to the driver when requested and may be obliged to leave the bus by a Company Official or Police Officer.
No food, drink or alcohol may be consumed while travelling on the Company's buses. Hot drinks must be carried in a sealed container.
The legal obligations which apply to passengers travelling on our buses are set out in "The Public Service Vehicles (Conduct of Drivers, Inspectors, Conductors and Passengers) Regulations 1990.
We want as many people as possible to be able to use our buses in safety and comfort. All of our buses have dedicated wheelchair space while some buses also have space for a buggy.
If there is no wheelchair user on the bus, other passengers including those travelling with a buggy or with bulky luggage may occupy the wheelchair space.
Please note that mobility scooters are not permitted on our buses.
The wheelchair spaces on our buses are designed for wheelchairs which are no bigger than 700mm wide, 1200mm long and 1350mm high. It may be possible to fit larger wheelchairs onto some buses.
Wheelchair users have priority over all other passengers within the designated wheelchair space. Although if the bus is full or if there is already another wheelchair user occupying the space, a wheelchair user will unfortunately not be able to board.
Wheelchair users and/or carers must ensure the wheelchair is positioned against the 'ironing board' backrest facing the rear of the bus, with brakes on. Ask the driver for assistance if necessary.
If there is no wheelchair user on the bus, other passengers including those travelling with a buggy or with bulky luggage may occupy the wheelchair space.
Mobility scooters are not suitable to travel on any McGill's buses.
You can read our guide to carrying passengers using wheelchairs here
3.2 Travelling with Young Children
Space on McGill's buses is limited. We recommend that passengers who intend to travel on our services with a small child use a smaller, easily foldable buggy.
Buggies including pushchairs and travel systems, which will not obstruct the aisle, may be brought onto our buses unfolded.
Most of our buses can accommodate one wheelchair and one unfolded buggy or pushchair at the same time. Should the situation arise that a wheelchair user wishes to board the bus already carrying an unfolded buggy; we ask the passenger with the buggy, to fold this and vacate the space to allow it to be used by the wheelchair user. We ask that passengers with the buggy be respectful to the needs of any wheelchair passenger who might board after them and that they will, without issue, fold the buggy and vacate the space.
Customers are permitted to stand out of the drivers view on single deck vehicles. On our double decker buses, customers must not stand on the upper deck or on the stairs.
Maximum standing and seating capacities can be found overhead at the front of the vehicle.
When boarding a McGill's service, customers must purchase a ticket, if they do not already have one. Ticket types accepted include paper tickets, GoSmart cards, m-tickets purchased through the McGill's app, Tripper cards, SPT Zone Cards, Plus Bus (within Glasgow) and Rail Link (on service 757 only).
Tickets remain property of McGill's Buses and must be presented for inspection on boarding any McGill's service at the request of any representative of the company.
Please ensure that you are issued with the correct ticket for your journey.
All student ticket holders must show a valid, UK, student matriculation card with a photograph, which has been issued by their college or university, at all times when boarding a McGill's bus. Passengers unable to present their student matriculation card will be required to purchase an adult single ticket for their journey. Please note that we cannot accept student cards that do not have a photograph.
The Company will refuse travel and prosecute anyone caught travelling with an altered, fake or out-of-date ticket.
Family tickets are for 2 adults, and up-to 3 children. One adult and one child must be present at all times, when using this ticket.
Tickets are only valid for the route or GoZone it was purchased.
Tickets purchased on the McGill's Buses app will not be refunded under any circumstances. If you lose your mobile phone, we can transfer your unused tickets.
Young Scot Card holders can also receive 1/3 off an adult single ticket, when you scan your Young Scot card.
The Company takes part in the Scotland-wide Concession Travel Scheme, eligible cardholders can travel at the concessionary rate on all of our services.
The Glasgow Tripper ticket is a smartcard that can be used across various bus operators in Glasgow. To view the official T&C's, please visit their website HERE .
Child, all-day tickets expire at 10.00pm each night.
Children ages 5-15 years old, or in school uniform are entitled to travel with child tickets.
Due to ongoing fraud of adults purchasing child tickets, we now require child ticket customers, outwith school uniform to show their Young Scot Card as proof of age when travelling with us at all times.
Passengers, out with school uniform, unable to present proof of age, will be required to purchase an adult ticket for their journey and their mobile account will be suspended, until proof of age is shown.
An adult found traveling with a child ticket, will have the ticket removed from their possession or cancelled, and we will prosecute anyone caught travelling fraudulently.
Children under the age of 5 travel for free on McGill's Buses.
The most up-to-date information on GoZone prices is available from our website and the McGills' app. For information on single and return fares please email [email protected].
Senior school pupils (S4-S6) who are over 16 years of age, can continue to access child fares when in school uniform only.
For security reasons, all of buses and premises are fitted with CCTV, many recording audio, to ensure that evidence of any act of violence, theft, inappropriate behaviour or criminal damage can be recorded.
Any acts of violence, theft, damage, accidents or inappropriate behaviour may be passed to the Police, the Traffic Commissioner or other enforcement groups.
We will always use all means to secure prosecution of anyone who commits a violent or criminal act on our buses or in our premises.
Accompanied luggage is carried at the driver's discretion and the passenger's risk. The Company will not be liable for any loss of, or damage to, luggage. Luggage must not be placed on any seat or cause any obstruction.
The following items may NOT be taken onto the Company's buses:
any weapon or explosive or any article which is dangerous, offensive or excessively cumbersome
bicycles other than folding bicycles which are folded and fully enclosed in a suitable carrying bag
non-folding wheelchairs, except where the designated wheelchair space is unoccupied
mobility scooters
any battery from which corrosive liquid might leak
Paint may be brought on to our buses only if it is in a sealed, newly purchased container, IN A SECURE BAG and is placed on the floor of the bus.

Passengers are liable for the cost of any cleaning or repairs required as a consequence of any spillage from articles they have taken onto the Company's bus.

Passengers are responsible for the safety and security of their luggage and liable for any injury, damage or loss which it may cause to the Company's buses, property, employees or other passengers.
The Company will do everything we can to locate any reported lost property on our buses.
If you have left something behind, please contact our Customer Service Team immediately by emailing [email protected]. Provide as much information as you can when reporting your lost property including, details of your lost item, which bus you were travelling on, and the date & time of your journey.
If your lost property is identified at one of our depots, the passenger will make their way to the depot, where they will be asked routine security questions before being handed back their belongings.
Lost property will be held for one month unless it's perishable, then it will be held for 48 hours.
The Company will not be liable for any loss of, or damage to, items left on our buses.
Small animals are carried, at the discretion of the driver. Guide dogs, assistance dogs and learning dogs will have priority over any other animal.
Dogs must be on a lead and are carried on local services only. Please note that we do not carry dogs on any motorway routes and we only allow one dog to travel at any one time on a bus. However, working dogs will never be refused from our vehicles, and should always wear the appropriate Hi-Viz harness to advise our drivers and other members of the public that the dog is there to assist its handler.
All other animals must be secured in a suitable cage or carrying case. The driver may require an animal to be taken off the bus at any time.
Animals taken onto a McGill's bus are the responsibility of the person they are travelling with. The owner of the animal is responsible for any damage caused by the animal, to any person or property on the bus. The cost of any necessary repairs or cleaning will be charged to the owner of the animal.
All animals are carried at the owner's risk. McGill's will not be liable for any loss or injury.
The Company does not have any facilities to carry or store standard pedal bicycles on our buses. If you have a folding bike that can be stored in the luggage area, which some buses have available, the Company is more than happy to carry this free of charge. The Company has a duty of care to all passengers and must ensure that the aisle is kept clear at all times from any obstruction. The wheelchair space cannot be used to store bicycles or for a cyclist to stand in with their bicycle.
12. Carrying Oxygen Onboard the Bus
The carriage of small canisters of oxygen is permitted for those passengers who are medically dependent on oxygen.
Suggestions and comments from customers are very welcome. Please write into our Customer Service team at McGill's Buses, 99 Earnhill Road, Greenock, PA16 0EQ or email us at

[email protected]

.